Academia responds to the call for action towards truth and reconciliation in Canada
Sunday, May 31, 2021
Nour Aoude, Federation for the Humanities and Social Sciences
It is perhaps telling of new stirrings in the academy that the inaugural Big Thinking lecture at this year's Congress of the Humanities and Social Sciences was presented by Justice Murray Sinclair, Chair of the Truth and Reconciliation Commission. No sooner had the Judge finished taking questions from the spirited and packed auditorium, the Federation for the Humanities and Social Sciences announced its own commitment to reconciliation through the adoption of the Touchstones of Hope Principles and Processes.
In the words of the Federation's President, Stephen Toope, there is growing urgency for "significant action within the post-secondary sector."
It was evident in the discussion circle that followed that the call for reconciliation was hitting a collective pulse at Congress: the academy, it seemed, is recognizing its critical role in a movement for reconciliation. Participants built on one another's ideas and, in no time, the multitude of anecdotes and prescriptions put forward had shaped a clear vision of the immense, but promising, task ahead. If you have any doubt that truth and reconciliation must start with research and education, consider this.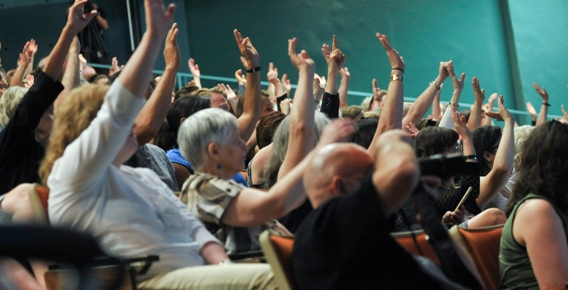 Victims of Indian residential schools have set out through the Commission's work that an integral part of reconciliation means understanding why the abuse and violence of the residential school system happened. Academia is a place to freely investigate the past, and understand this "why." Perpetrators, too, should understand this why, as should bystanders and posterity. To find our different answers and reach our own reconciliation with the past, we have to draw on the rigorous research of historians, political scientists, economists, sociologists and experts in many fields like cultural and religious studies.  
Nor can the academy turn a blind eye to its own complicity in what happened. Duncan Campbell Scott, an early architect of the residential schools, was in his time a prominent academic and member of the Confederation Poets. Intra- and inter-disciplinary criticism is essential if we are to surpass the common narratives of settler supremacy ingrained in our academic disciplines and curricula, from the elementary to postsecondary levels.
But, more importantly, education is the key to healing and moving towards a just, equitable future for all. The Aboriginal families and children affected by the residential school system need our collective support today to go to school and university and succeed in their education. For them, this is the only guarantee of a bright future. Educators must continue to think about ways to de-colonize and indigenize courses, a task that will undoubtedly call upon the efforts of many specialists.
Even the revival of indigenous languages and the creation of a map of North America with indigenous place names, ideas suggested at the panel, call for postsecondary research for their fruition. This is a call that transcends fields, disciplines, and institutions. It is a national call to understand who we are as peoples, and academia ought to be at the forefront of our search for understanding.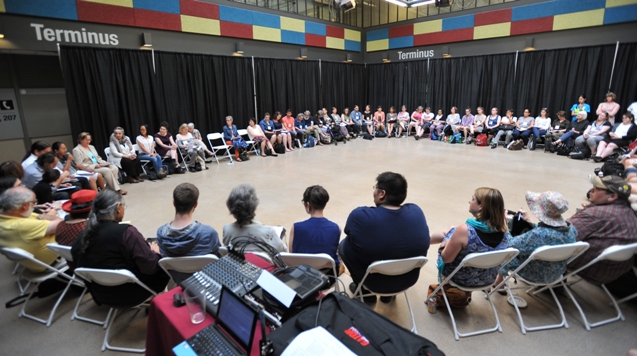 Photo credits: Denis Drever photography.